PUNE
: Residents of
Lavasa
hill station are awaiting a final decision with two companies submitting bids for the project ahead of the final deadline that ends in October. The residents have been waiting for the bids for the last three years.
Residents said that Mumbai-based Darwin Group of companies and Delhi-based Dhir and Dhir Associates have submitted their bid and are now hoping that the Committee of Creditors weigh the ability of the resolution applicant thoroughly in the interest of the residents, who have been waiting for the last three years for the final decision.
"We are hoping for a positive resolution as failure would lead to liquidation, which would be detrimental to the interests of all," stated Suresh Goswami, a resident of the hill station, who has been on the forefront about raising the issues before the central and state government.
In May this year, residents of the hill station project had written to chief minister Uddhav Thackeray urging him to revive the scheme. In their letter, the senior citizens said it has been 34 months since Lavasa approached the National Company Law Tribunal (NCLT), but there has been no final decision or resolution on who can take over the project.
They also sought to know why the government was not interested in the project. The residents had earlier approached the prime minister and the housing affairs ministry.
Now, with the bids to be finalised soon, residents are hopeful that their issues would be resolved. "It has been a long wait of three years, as against the law-mandated six-month period, for the process to get to this stage of near completion," shared Goswami. The company was admitted for Corporate and Insolvency Resolution Process (CIRP) by the NCLT in August 2018, he pointed out.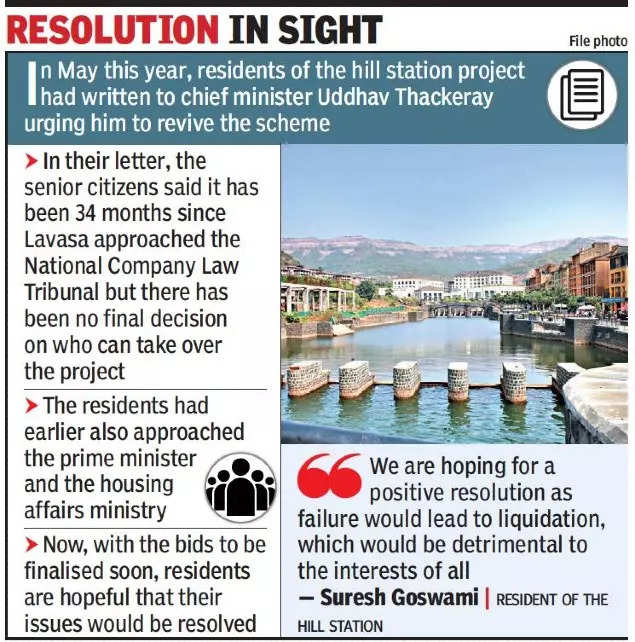 Vineet Tulsyan of R3 Corporate Advisors, who are advising Darwin Group, said that the group is quite positive on the resolution of Lavasa. "As their advisors, we have tried to understand the complexities and innumerable hurdles of the project mainly related to Environmental Clearances and MahaRERA.
Homebuyers are the biggest sufferers here, besides the secured financial creditors. Keeping that in mind, we have prepared and submitted a very balanced plan. We are hopeful Lavasa will see a successful resolution this time. Liquidation won't be the right thing for this asset, that's what we believe," Tulsyan told TOI.
When contacted, Purusharth Singh, partner at Dhir and Dhir Associates, shared the following statement by Srishti and Madhav Dhir, the resolution applicants, "We recognize the residents of Lavasa City as the primary stakeholders in the entire resolution process and we truly believe that our resolution plan will give due credence to the plight and effort of the residents and aims at maximization of value for all other stakeholders, especially financial creditors.
We are also confident that with the combined efforts of the residents, backed by meticulous planning that has gone into the preparation of our resolution plan, we will be able to surmount all challenges especially those related to environmental clearances and the city shall reclaim its vibrant character."