PUNE
: The Pune Metropolitan Region Development Authority (
PMRDA
) would draft the development plan for 23 villages recently merged with the
PMC
, a notification issued by the state government on Wednesday stated.
The government said the PMRDA would work as a special planning authority for the development plan (DP).
The BJP, which is running the Pune Municipal Corporation (PMC), has, however, criticised the state government's decision. Mayor Murlidhar Mohol said the government's decision "appeared to be politically motivated".
The PMC would explore legal options for retaining its rights of drafting the development plan for the 23 villages, he said. "Once the villages have been merged into PMC limits, the powers to take decisions about the developments there are vested with the civic body. The powers include the one to draft the development plan," Mohol said.
"The government's move to divert the PMC's powers to the PMRDA is illegal," the mayor said, adding that the civic body has convened a special general body meeting on Thursday to discuss the development plan.
The state government's notification stated that the order had been issued under sections 40 (1) and 40(1)(D) of the Maharashtra Regional and Town Planning Act. The order stated that the roads in these villages were developed as per land availability and with no planned alignments. The order added that the width of the roads was not as per the requirement and the public amenities had not been developed.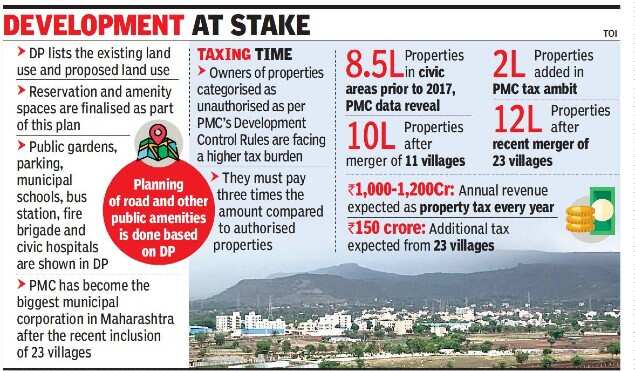 "The area of the 23 villages is of 'undeveloped' nature and development is of 'unplanned' and 'uncontrolled' manner," stated the order issued by joint secretary, state government, Noreshwar Shende.
Leader of the house in PMC Ganesh Bidkar the state government's stand on the issue was incorrect, as the 23 villages were developed. "If the PMRDA has already worked on the development plan of these villages, those details should be shared with the PMC. The PMC will use the details for drafting the DP. The document can be jointly prepared by the PMC and PMRDA. But formation of a seperate planning authority, excluding PMC, for the DP is wrong," he said.
The opposition parties in the PMC have welcomed the government notification. "The PMRDA has prepared the development plan for these villages. A lot of time and money has been utilised for finalizing this document. Instead of the PMC starting the process all over again, the document prepared by the PMRDA should be carried forward," said Ulhas (Aba) Bagul, leader of the Congress in the civic body.
The urban planners are in favour of continuing the work on the development plan initiated by the PMRDA. "There is no point in repeating the work already carried out by PMRDA. The PMC and PMRDA can join hands and complete the development plan for the merged villages. It will save time, money and resources," senior urban planner Ramchandra Gohad said.