VISAKHAPATNAM
: The Visakhapatnam Metropolitan Region Development Authority (
VMRDA
) draft master plan-2041 has proposed 1,627 square kilometre area or approximately 33% of the VMRDA area for urban development.
The population is projected to increase to 6.72 million by 2041.
The state government has recently brought 13 more mandals in Visakhapatnam district and Merakamudidam Mandal in Vizianagaram into VMRDA limits, increasing the extent to 7,328 square kilometres. However, the master plan is yet to be prepared for the recently merged mandals, spanning about 2,455 square kilometres.
The existing land use in the core urban areas will undergo urban regeneration and transformation, whereas the peripheral areas of growth are delineated based on demand and future projections for the horizon year 2041. The total developed area as of 2019 in the VMRDA is 963 sq. km, which is around 15% of the total area of the VMR.
Considering the environmentally sensitive areas, optimum population density, protection of agricultural land, physiological features, transit corridors and growth trends, the new growth areas have been judiciously delineated, which may add a new growth area of 980 sq.km to the existing development. So that the total proposed developed areas in VMR would become approximately 33% of total area of the VMR.
Visakhapatnam and Vizianagaram are proposed as the major growth centres where adequate land has been allocated for the urban activities as per the projected population and employment.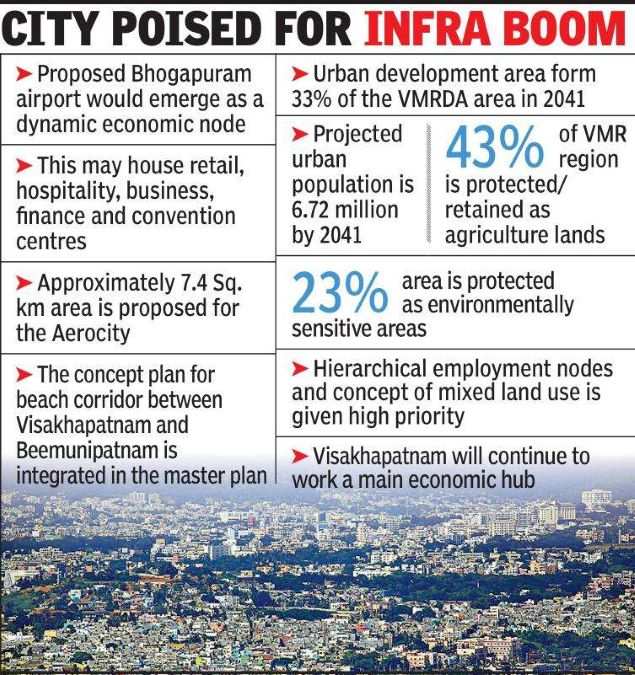 The master plan envisages locating the majority of large industries south of dolphin hills in the existing industrial zone. The cleaner and resource-based white industries can be distributed in other parts of the region. As a whole, 177 square kilometres industrial areas are proposed to be developed in the plan. In principle, white industries are proposed in Vizianagaram.
The smaller pockets proposed under industrial use at Kothavalasa and Yelamachili will house MSME industries to create employment at the local level. Kothavalasa falls in the expansion zone of Visakhapatnam, owing to its proximity to Vizag and sources. Only the cleaner MSME industries will be located in these industrial nodes. An industrial pocket of 10 square kilometre is proposed in the north of Kothavalasa town.
As per the master plan, mixed use is more advantageous as the area can be developed for multiple compatible purposes with economic importance. The master plan envisages approximately 77 sq. km of mixed-use development, which is approximately 1.2% area of the VMR and approximately 4% of the developed areas in VMR.
In Vizianagaram, an inner ring road is proposed in the master plan. The inner ring will help decongest the core and improve access in current perimeter of the city core.