VISAKHAPATNAM
: The Visakhapatnam Metropolitan Region Development Authority (
VMRDA
) has completed the preparation of its draft master plan-2041 and draft perspective plan-2051.
According to the VMRDA officials, these plans would be on display on the VMRDA website and at the offices of VMRDA, Greater Visakhapatnam Municipal Corporation, Vizianagaram municipality and other key offices falling under the limits of the VMRDA for the next one month to receive objections and suggestions from the public.
Any person, residing in the VMRDA development area, can send their opinions to the e-mail address or in person/by post to the Metropolitan Commissioner, VMRDA on or before July 15.
The master plan outlines a development vision of the VMRDA and its planning framework for the future, including housing strategies, conservation zones, industrial development plans, transportation plan, public amenities, and the like.
VMRDA metropolitan commissioner P Koteswara Rao said that the public can submit their objections and suggestions on the draft master plan and draft perspective plan on or before July 15. "The draft plans would be in the public domain for a month. The map depicting various land uses may be inspected at the VMRDA office and others," said Koteswara Rao.
Koteswara Rao added that all the inputs received from the public during this one month would be referred to an expert committee to check their validity and incorporate the worthwhile in the final master plan.
A private agency has been entrusted with the responsibility of master plan and zonal development plans for VMRDA-2041 . The master plan works were commenced in August 2016, which were originally scheduled to be concluded in two years, August 2018.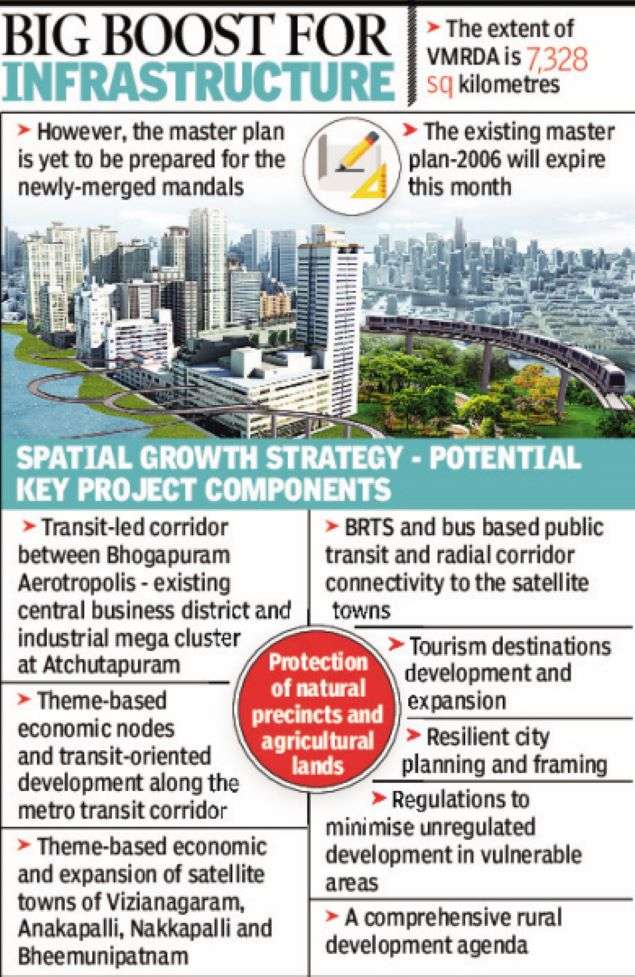 According to the VMRDA officials, they procured latest satellite imagery instead of 2012-based imageries as per the then Vuda Board directions, which delayed the master plan process. Later, the Covid-19 has also affected the process.
After the state government notified its 'development area' in 2018, the VMRDA has also embarked on the preparation of a 'Perspective Plan' apart from its then ongoing exercise for the master plan.
While the master plan acts as a sectoral plan covering zoning, industrial development plans, etc., the perspective plan is a strategic plan providing sector-wise goals, policies, strategies, etc. in line with the government policies for the spacio-economic development of the region.