VIJAYAWADA
:
Amaravati
Metropolitan Region Development Authority (
AMRDA
) and
Vijayawada Municipal Corporation
(VMC) have begun a special drive to identify illegal constructions.
The deadline for the Building Penalisation Scheme (BPS) ended on 31 December 2020.
Amaravati region, especially Vijayawada, became a hub for real estate after the city became a part of the capital region in 2015. Many builders started group houses that resemble apartments. Most of these constructions had deviations and were constructed by acquiring panchayat plans in 2016. Several middle class families had invested in these flats considering their affordable price.
The then TDP government started BPS scheme in August 2018 and it was extended till December 2020 for various reasons. But many builders and flat owners ignored to complete the penalisation process by submitting necessary documents and penalty charges.
Most of the illegal constructions are half finished group houses and the plan validity of many of these apartments has lapsed. The AMRDA and VMC started issuing notices to illegal constructions asking them to demolish voluntarily. Authorities have given them two months to demolish the structures.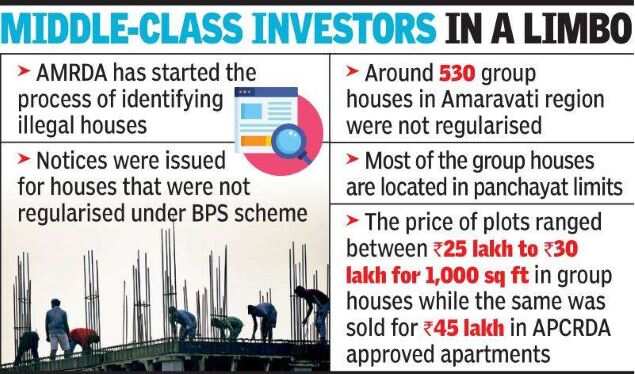 "Owners of illegal constructions missed the last chance to pay penalties for their houses. Most of these apartments acquired plans from panchayats before inception of Amaravati Capital Region Development Authority (APCRDA). These plans are now inactive and there is no chance of renewal. There is no alternative remedy," said a senior official at city planning wing of AMRDA.
Meanwhile, plot owners who invested huge money in these buildings are now in limbo with the notices issued by AMRDA. "We have paid Rs 10,000 as token amount for BPS and are waiting for our builder to complete the process. We just came to know after APCRDA stocked notices to the building. Government should give us another chance," said Rokkam Surya Rao, a buyer from Nidamanuru.