MUMBAI
: The redevelopment of cessed buildings has been stuck for over a year because of a government resolution (GR) issued in September 2019, even as old and dilapidated buildings in the city continue to collapse with appalling frequency.
The Maharashtra Housing and Area Development Authority's (Mhada) Mumbai Building Repairs and Redevelopment Board (MBRRB), which regulates the redevelopment of old, cessed buildings, has not issued a single no-objection certificate (NOC) since the GR was issued last year by the state housing department under the then BJP-led government.
The GR, dated September 11, 2019, made the conditions for redevelopment by private builders so stringent that no developer has been able to fulfill them. As a result, NOCs for the redevelopment of at least a 100 buildings are stuck and people continue to live in dangerous structures. One of the conditions in the GR is that any builder who wants to redevelop a cessed building must have a turnover of Rs 10 crore to Rs 50 crore in three years.
Another says the builder should have already constructed 500 houses to be eligible to redevelop a cessed building. Ironically, when the GR was passed, officials said the amended guidelines were meant to expedite the redevelopment of cessed buildings after Kesarbai Mansion at Dongri collapsed in July 2019, killing 16 people.
A senior Mhada official said, "We have received and scrutinised many applications. But because the builders don't meet the criteria laid down in the GR, we have not been able to issue any NOCs in the past 12 months. Because of this, all the changes made in Mhada's norms to fact-track redevelopment have proved futile. Till this GR is scrapped, nothing will move." He added, "No builder or landlord is approaching Mhada anymore. We are waiting for the GR to be scrapped."
Mhada officials said there are around 14,000 odd cessed buildings in Mumbai, many of which are in urgent need of redevelopment. A cessed building is one on which tax — to fund its repairs — has been paid. These buildings are mainly located in south and central Mumbai, where buildings date back to the pre-Independence era. Cessed buildings are owned by private landlords and are regulated by the Bombay Rent Control Act.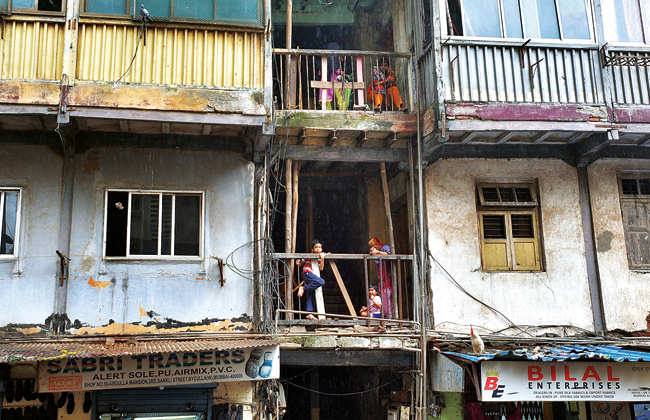 One of these is Byculla's Abdulla Mansion. First declared dangerous in 2012, its redevelopment has been stuck for want of an NOC as the builder hasn't been able to fulfill the myriad conditions in the GR. The four-storey building has 50 flats — though only 25 are currently occupied — and has been issued a vacation notice by Mhada.
Samajwadi Party MLA Rais Shaikh said, "The builder has submitted a proposal and is waiting for an NOC. Just because of the September 2019 order, no NOC is being issued. The conditions in the NOC are so stringent and impractical that no small or medium-sized builder can fulfil them. If the building falls and people die, Mhada will be responsible." Shaikh has written to Chief Minister Uddhav Thackeray, asking him to scrap the September 2019 orders and fast-track NOCs.
Amin Patel, Congress MLA from Mumbadevi, said that Housing Minister Jitendra Awhad had announced in the state legislative assembly earlier this month that the September 2019 order would be scrapped. "But even two weeks after the minister's announcement, the GR hasn't been scrapped. Hundreds of NOCs are stuck and thousands of people are at risk as they continue to live in old, dilapidated buildings. The GR must be scrapped. Given the Covid-19 pandemic, norms for redevelopment must be relaxed and builders must be given concessions so that redevelopment can move forward," he said.
Patel added that most cessed buildings stand on small land parcels of 200 to 1,500 square metres. At such sites, redevelopment is usually undertaken by small developers or the landlords themselves, he said, but they can't fulfill the stringent criteria laid down in last year's GR.
Awhad said, "MLAs from all parties have demanded that this GR be scrapped. I have already announced in the legislative assembly that it has been scrapped and it stands cancelled. If there is any delay in the formal scrapping, I will look into it."