MUMBAI: Twenty-one families that survived the collapse of the Bhanushali Building still don't have a roof over their heads despite authorities' claims that they have all been assigned temporary accommodations. Ten people died when a part of the 80-year-old building, which was due for redevelopment, fell on July 16.
As per the survivors' demands, MHADA soon gave them temporary accommodation in one of its buildings in Tardeo's Chikhalwadi area. The allotment letters said they would be given flats in Building No 9 for a period of 12 months. As per MHADA rules, the families paid Rs 5,000 deposit and Rs 500 rent for two months.
Shortly after they received the allotment letters, MHADA officials told them there had been a mistake, and that they would be moving into Building 10. On August 17, Housing Minister Jitendra Awhad, Shiv Sena's South Mumbai MP Arvind Sawant and MHADA Mumbai Building Repairs and Redevelopment Board (MBRRB) chairman Vinod Ghosalkar handed over keys to the families.
When some of the families moved into Building No 10, they were told to vacate the flats.
Now the families have allotment letters, keys, but no place to stay. And they are getting increasingly desperate.
Akhilesh Gupta, 44, sells clothes from a roadside stall. He lives with his two children and his brother's family. "We cleaned the flat in Building No 10, we bought drums to store water. But our dreams shattered," he said. "We are tired of visiting MHADA."
Pradeep Mishra, 47, a taxi driver, lost a family member in the collapse.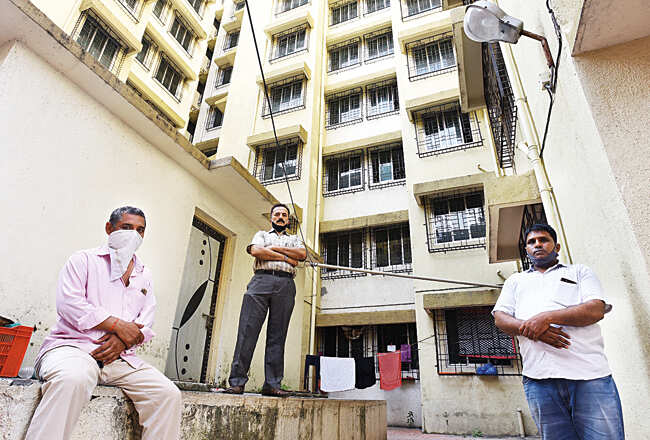 "My brother's wife died. She had two little children. We shifted our gas cylinder, suitcases full of clothes and everything to Building No 10 and now we can't stay there," Mishra said. "MHADA should have taken care of administrative things before handing over the keys and making public announcements."
Haresh Chavda's tailoring business had already taken a hit because of the lockdown when the building collapse added to his woes. He told Mirror his financial condition is precarious.
"How long can we request our friends and relatives to allow us to stay? We need accommodation. We have waited long enough," he said.
Manav Seva Dham activist Sanjay Kokate, along with the families, met Deputy Chief Minister Ajit Pawar last week. They also met Awhad and MHADA officers.
"MHADA's junior officers are giving misleading reports to their seniors. Basically, if Building No 9 did not have an occupancy certificate and was not in a liveable condition, how could the allotment letters be issued for Building No 9?" Kokate asked.
MBRRB chairperson Ghosalkar told Mumbai Mirror: "Yes, we have realised that the tenants are not able to live in either allotted buildings. We have sent a proposal to the vice president of MHADA. I want to assure these residents that once it is approved, by the VP using his special powers, they will be given temporary accommodation."
Ghosalkar, however, refused to give a timeline. He said there was alternate accommodation available in Borivali, but the families did not want to move there, as they had business and livelihoods in South Mumbai.