CHANDIGARH
: A second rejection from the UT administration to increase the floor area ratio (FAR) of the city's costliest housing scheme planned in Sector 53 has almost spelt its death.
The Chandigarh Housing Board (CHB) had submitted a revised proposal before the administration to revive scheme that was offering three bedroom-hall-kitchen (BHK) flat for Rs 1.5 crore. The matter will now come up for discussion in CHB's meeting on August 6.
Last month, the architect department of the administration had also refused to accept the proposal of the CHB.
In its fresh proposal, the CHB had submitted to make it affordable, there was an urgent need to increase FAR. By offering more space in flats, buyers would be interested in the scheme that could evoke good response, the CHB had submitted.
In March, the board had scrapped the scheme, deciding to refund the amount to the applicants decided by the demand survey. However, the officers were asked to consider framing of a new scheme with lesser cost.
The CHB's board of directors in its meeting in March had decided "The proposed general self-financing housing scheme in Sector 53 needs to be made more lucrative. To reduce the land cost component, the matter may be taken up with the administration to increase the floor area ratio so that more flats can be constructed. Further, the possibility of some changes in the specifications and design also need to be explored. Considering that framing a new scheme with lesser cost and further possible changes may take considerable time, the board has decided to refund the amount deposited by the applicants…"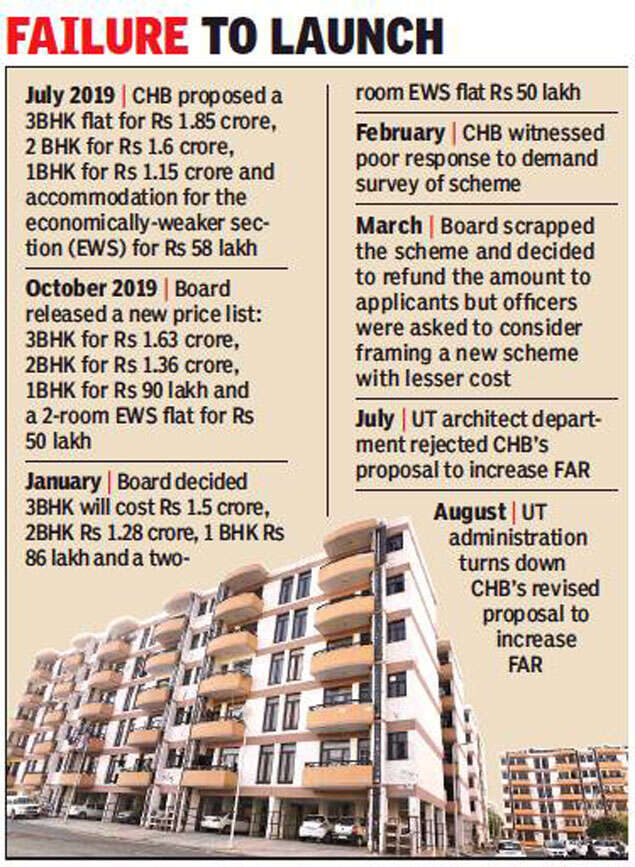 There was a poor response to the demand survey, as only 178 applicants came up for 492 flats. The CHB had reduced prices of flats twice and even extended the deadline for demand survey. After witnessing poor response, the CHB, on January 14, further reduced prices by 5% to 7%, and extended the date for submission of online application to February 24.
In July 2019, the CHB had proposed a 3BHK flat for Rs 1.85 crore, 2 BHK for Rs 1.6 crore, 1BHK for Rs 1.15 crore and accommodation for the economically-weaker section (EWS) for Rs 58 lakh, drawing a lot of criticism.
The board released a new price list on October 10: 3BHK for Rs 1.63 crore, 2BHK for Rs 1.36 crore, 1BHK for Rs 90 lakh and a two-room flat for EWS Rs 50 lakh. Then on January 14, the board decided that 3BHK will cost Rs 1.5 crore, 2BHK Rs 1.28 crore, 1 BHK Rs 86 lakh and a tworoom flat for EWS would remain unchanged at Rs 50 lakh. The board official had said persons applying under the demand survey would be given preference in allotment. The scheme was proposed to be made open for all.