MUMBAI: Imagine a flat in
Goregaon
for Rs 30 lakh when an affordable home in Mumbai is priced at a minimum Rs 1 crore. The first-ever affordable housing scheme in the city under the Pradhan Mantri Awaas Yojana (
PMAY
) is set to make this a reality.
"The bhoomipujan for the scheme will be held in October/November," said housing minister Jitendra Awhad. Milind Mhaiskar, vice-president of Mhada which is the nodal agency, said the Centre is likely to give its nod for the scheme at the next meeting in August. "The plot is privately owned and is in an eco-sensitive zone. However, since all details were not available in the last meeting, it was deferred," he said.
Flats in the scheme, which is entirely for the economically weaker section, will have an area of 300 sq feet, Mhaiskar added. The developer will be allowed a floor space index of 2.5 in a green zone. The 15,000 EWS units will comprise 50% of the project, while the balance will be for sale in the open market.
Sources said the 50:50 ratio is allowed by the government when it is a public-private partnership, where the land is often private. However, the land parcel must be more than 10 acres. The private developer can partner with any local authority. In case of Mumbai, it can be the BMC, MMRDA, SRA or even MHADA.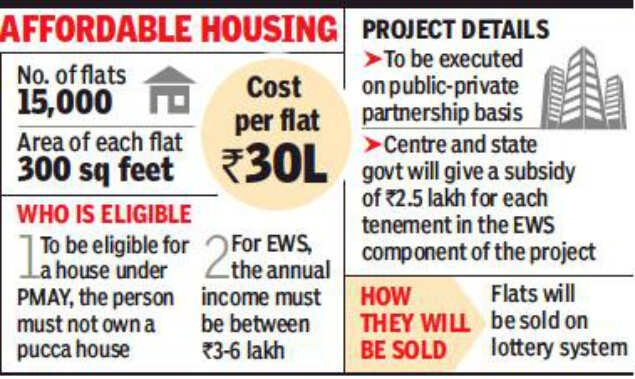 In March 2019, the state urban development department had modified the Development Control Regulations for the Mumbai Metropolitan Regional Plan allowing the PMAY to be implemented in the periphery of urban local bodies. The BMC's 2034 Development Plan has, however, split the green zones in the city into no- development zones and special development zones. The latter have been specially created for mass housing. In the SDZs, the developer is expected to provide any civic infrastructure.
When the PMAY was launched in 2015, the Maharashtra government had set a target of constructing 19 lakh low-cost houses by 2022. Of this, nearly 11 lakh homes have been proposed in MMR.